Microsoft's has had a huge problem the last few months with the part of the Operating System that prints things - the print spooler. And the print nightmare just keeps coming.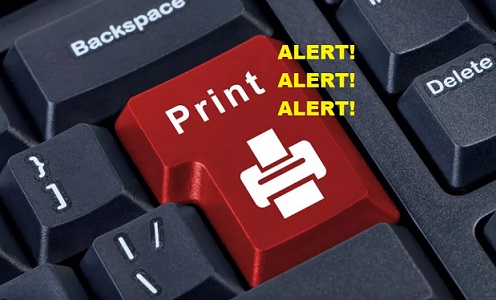 There are now 3 serious security flaws related to the Windows Print. They have the nickname "PrintNightmare". Until Microsoft solves the problem and releases an update for it, the only way to completely protect your system from attacks using these security flaws is to completely disable printing.
Like the original PrintNightmare flaw that was accidentally disclosed, and then partly patched, in late June and early July, these new flaws abuse the Print Spooler service in Microsoft Windows.
The first flaw was revealed on July 15 in a Microsoft security bulletin. It tells how someone can use the good old print spooler to get access to your computer they normally wouldn't have. It allows an attacker with local access — such as a virus or malware that in already in your machine, or a bad guy actually sitting at your computer while you're logged on but have stepped away — to "escalate privileges" and gain full administrator control of the computer. They can then install programs, view or delete data or mess with the system any way they want.
"The workaround for this vulnerability is stopping and disabling the Print Spooler service," - Microsoft. In other words, to stop bad guys having access to your computer, you've got to disable printing entirely. A lot of people print!! https://msrc.microsoft.com/update-guide/vulnerability/CVE-2021-34481
But wait a minute: If you're using a PC (laptop or desktop running Microsoft Windows) at home, AND you've got some good antivirus software installed to prevent malware infection (such as MalwareBytes), AND you trust the people you live with not to mess with your computer, you may not need to take the drastic step of turning off the printing service.
The people who are vulnerable to the exploitation of this flaw are people whose computer is attached to a large network of other computers and who's work environment has a large number of people - you never know who might not be trustworthy. If you feel like you might be at risk, then the workaround (until Microsoft come up with an actual fix) is to turn off the printer spooler - the official name of the printing service on your computer. If you DO want to do this, give us a call - it's a bit tricky to do.
Otherwise, here's hoping Microsoft fixes this glitch up soon!