Computers are pretty reliable these days.
About 15 or 20 years ago, it was pretty common for your laptop or more likely your desktop PC (since laptops weren't that common then and were certainly a lot more expensive) to have a problem on a regular basis. Customers would experience trouble with their computer as often as 3 or 4 times per year. This partly depended on the age of the computer, but mostly of the quality of components used. There must have been a wide variety in quality standards because even the same model or brand could have both stable, reliable computers and absolute duds that required continuous repairs. But...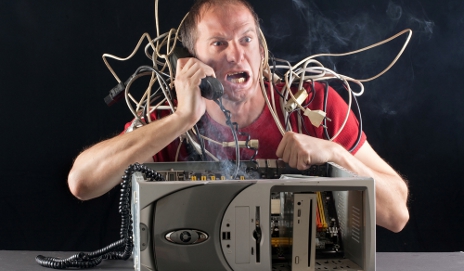 But these days the components used in even the cheapest, Chinese knock off computer from The Warehouse, still is significantly more reliable. Although, if you had a computer from the 90s, and it was still working, then there's a really good chance that it would STILL be working today. The ones they got right really were very good – they don't build 'em like they use to – has both good and bad connotations I guess? 😉
The catch, as my fellow tech and friend would point out, is that the reliability lulls into a false sense of security. "My computer always keeps going – why would it suddenly stop?" And for good reason. We have loyal customer's who love our service, and yet we only see them every 4 or 5 years. Why is that? They haven't been going to other computer repair services, the computer has, simply, been like Rover – it's been a good boy! 😊 This is where the false sense of security comes in. If nothing hardly ever goes wrong, you don't have recent memories of pain to encourage some action into preparation.
Where possible, we should all prepare for a computer disaster.
So instead of relying on the pain of a recent computer disaster, we have to use just pure logic. Logic states, "if you lost everything off your computer, you would be sad/mad/inconvenienced."
For some people the loss of all data off their computer would be a major issue e.g. if all their business was on their – projects, accounts, plans, preparations, designs. In their case, they would have to rebuild everything from scratch and much would be lost permanently. Months and months of work to recover just some of the work.
For some computers users, at the other end of the spectrum, they only use it for a bit of browsing and log into their webmail. They could literally go to any other computer and start using it straight away. Often the plan is … "if disaster strikes, I'll just buy a new computer." It's not a bad plan but does have a few downsides cost wise. Many computer problems can actually be repaired for a reasonable cost – much lower than the price of a new laptop etc. This is not only better for the environment, but also for your wallet! You might get our Basic Backup which costs $175 and later have a problem. Perhaps Windows has fruited itself (technical term). Because you have a backup, we can just restore from backup and the computer is up and running for, say, $120. You've spent nearly $300 total (and the back-up drive can be used still) which is much cheaper than a $700 laptop. Now, that doesn't cover every scenario, obviously. If you drop the computer and smash the screen, the backup isn't a particular help for people with no data. But if you have anything on your computer you just wouldn't want to lose, then the backup is going to be a lifesaver.
Call for details or download our brochure here.