FREE Backup Check - no obligation.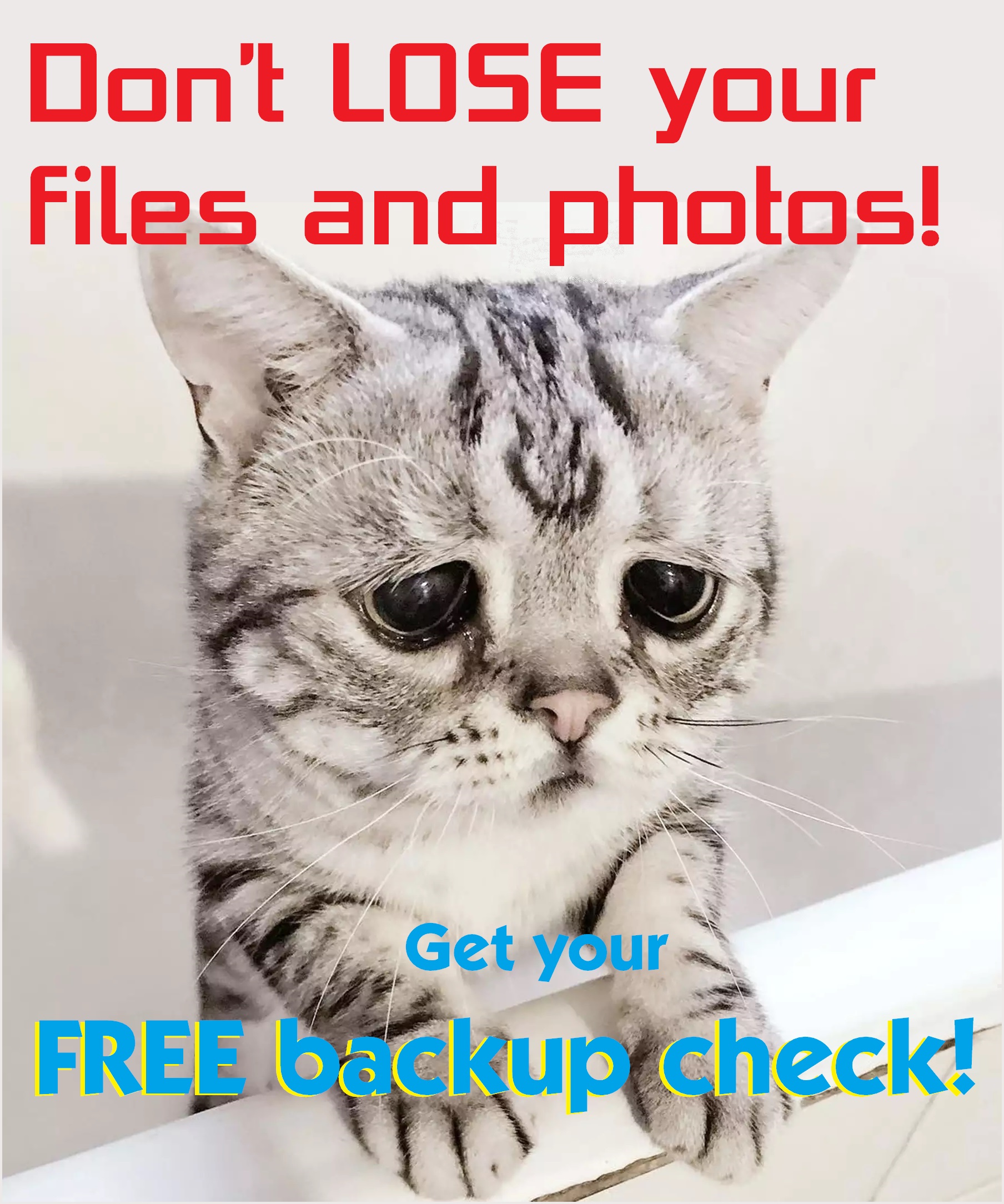 Call NOW to book a FREE check of your backup
There are many things that can cause you to lose all the data from your computer – your photos, emails, documents, accounts, invoices, family tree, music, movies and videos – and it's not a question of IF, but of WHEN. We nickname the things that can go wrong a "disaster" because if you don't have a backup it will be heartbreaking.
The FIVE Disasters We See Regularly
ONE: Drive failure. We tend to think that things should keep working, but in reality, stuff breaks. Of all the components of your computer, drives are one of the biggest culprits. If they do fail, data recovery is sometimes possible, but only sometimes.
TWO: Power surges happen from time to time and your power supply has some ability to handle this, but occasionally a surge can send an electrical charge that is too much for the computer to happen. This can fry parts of your computer – including the drive that stores all your information – photos, email, documents etc.
THREE: Short circuits can occur when two parts that carry an electrical current that shouldn't touch, do touch. This is commonly in the USB ports and the power socket. If you've ever looked inside the USB ports of your computer, you can see just how easily this could happen. As with power surges, this can fry components of your computer and result in data loss.
FOUR: Cryptolocker viruses are the worst thing to happen to the computer world, in my opinion. If they infect your system, the result is immediate and disastrous. All your files are locked, and you cannot get access to them, open them, save them or print them. They only way to recover is to either pay the ransom to the evil hacker who wrote the virus and hope that they are an honourable criminal and will keep their word – doesn't sound likely does it? ☹ OR you can recover your files from your isolated backup.
FIVE: Fire, theft, earthquake. Less common, but heartbreaking still. If your house or business premises is wiped out, you will need to recover your files from a different location. For this, hopefully you either have an external drive in another location you can access, or you have a cloud backup.
Call and arrange a time to drop in your computer and backup device for a FREE check. We'll inspect your computer backup and check if it's working correctly. This usually takes about 30 minutes, so drop it off and grab yourself a cup of coffee. After the inspection is complete, we'll let you know what we found. If your backup isn't working well, we'll give you expert advice on what we think the best solution would be. At that point, we'll leave it up to you to decide what you want to do. No obligation. Genuinely.
Here are the three backup options we suggest for you. Which suits you best?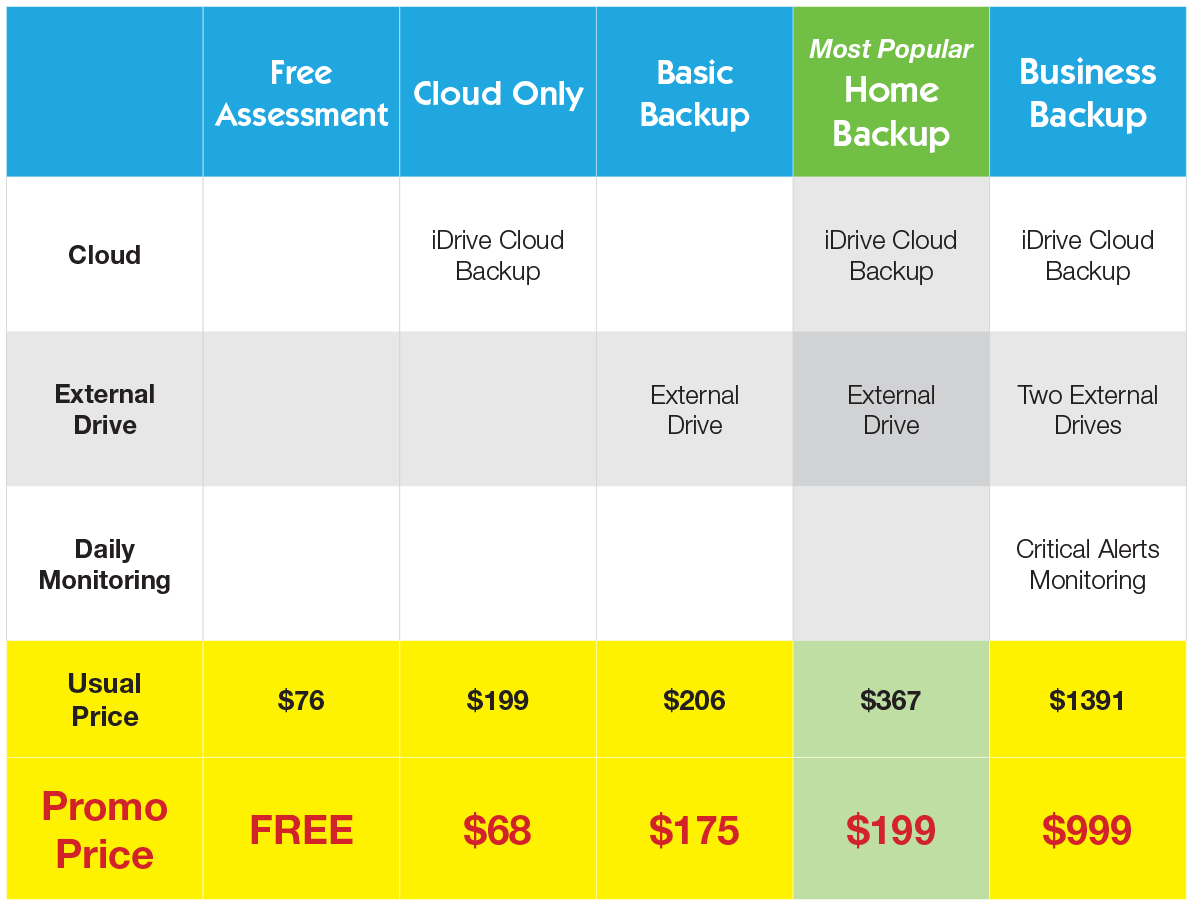 CLOUD ONLY
Probably the least safe backup method, but better than nothing. Use iDrive to upload a copy of your documents and photos to the "cloud" - which is basically another computer somewhere else in the world specifically focused on this task. Then in a disaster, use your encryption key (special backup password) to download the files. If you use a fair bit of the space allowed for in the basic deal, then you can expect this download to take several hours at least.
Pros – easy to set up, no drive swapping required.
Cons – uses internet, in the event of disaster recovery is slow (waiting for all the files to download)
BASIC BACKUP
If you have files on your computer that you really wouldn't like to lose (e.g. photos, emails, documents, letters, family history, shortcuts, favourites, passwords) then a backup is critical for you.
This basic backup will cover many scenarios where you might require it.
Even if you don't have any particular data you would be worried about losing, having a backup means that if you have a problem with your computer it's a simpler to "roll back" to your last backup and get everything going just how you like it. Especially if it's up-to-date.
Pros – cheap to set up and no ongoing costs
Cons – drives need swapping regularly. Only covers approx. 80% of "disaster" scenarios.
HOME BACKUP
If you don't want to take any chances, then it's best to completely cover your bases with a full backup. This means you follow the golden rule of backups… 3-2-1. Three copies, in two different locations, and one offsite.
By providing you a second external hard drive, we ensure that you have 3 full copies of your system – the computer system itself and the two backups.
The cloud backup to a trusted online backup system that has been around for 15 years, ensures that you have your data in two different locations and one of them is offsite.
This means if you have a fire or robbery at your place, or a crypto locker virus locks you out of all your photos and files etc, at least one of your backups will be safe and clean. This backup system should cover you for 99.9% of situations, as long as you do your part of the backup properly. Effective backup requires you as the owner of the information to make sure drives are swapped correctly and that warnings and errors are not ignored. It's worth getting our technicians to check your backup from time to time, too.
Pros – excellent backup that covers 99% of situations (assuming no malicious intent)
Cons - drives need swapping regularly. Higher initial cost, then ongoing costs (approx. $125 per year)
BUSINESS BACKUP
For mission-critical computers, ones where the content is vital, valuable or critical to your home or business, then we recommend not only doing all the backup procedures listed but also to monitor these backups every day and make sure they are actually happening as planned.
The only way to do this is for someone to actually check on the backup each day. Our Critical Alert services does this as well as checking two other key aspects of a computer system that needs to not be bogged down with issues.
Backup and critical alerts are monitored each week day, every day of the year except stat holidays.
For more details, ask one of our Critical Alerts specialists to give you a call to run through the details.
Pros – excellent backup, for mission-critical computers, that is actively monitored by us and covers 99.9% of situations (assuming no malicious intent)
Cons - drives need swapping regularly. Higher initial cost, then ongoing costs from year two ( NZD $600 annually or $65 per month. Additional computers cost extra)


Call NOW to book a FREE check of your backup
Ongoing Subscription Fees
Some of these options include ongoing fees. Specifically iDrive and Critical Alerts.
iDrive in Year TWO (Annual Subscription) USD $75.95, approx. NZD $125 (Variable on USD exchange rate)
Critical Alerts Monitoring Year TWO (Monthly Subscription): $600 annually or $65 per month (per computer)
Call for more details or to book a technician at your place.
BACKUP ISN'T MAGIC
Whatever option you choose, make sure you follow good backup practice as advised by our technicians. This may involve plugging in your backup drive daily or weekly and getting your backup system checked regularly too. Backup doesn't happen by magic. If you don't plug in your drive for 6 months, or you leave it somewhere unsafe you shouldn't expect it to work when you need it. Our techs will advise you of what to do for the backup you choose.
Backup Requires Maintenance
On the day we set up backup for you, it will be working, we guarantee it! But we live in a world where things break from time to time. Also, backup requires some interaction from you. If you do not swap the external drives over, or use them incorrectly, or fail to pay your subscription to iDrive, you can expect your backup to be ineffective. Here are the things you should be aware of...
WE WILL...
Set up your backup on day one correctly and check it's working before we leave
Advise of any issues that we become aware of that might trouble for your backup via email
Warranty any external hard drive we sell you.
YOU WILL...
Swap external drives regularly (usually weekly or daily, depending on usage)
Get your backup checked regularly to ensure it's still working (6 monthly or yearly works for many people)
Pay your subscription to iDrive if you have taken up the Home Backup service.
Keep your encryption key and password for iDrive in a safe place when you need it for data recovery
Call NOW to book a FREE check of your backup
For more info, here are other articles...
https://www.chnz.co.nz/blogs/ransomware-computer-backup
https://www.chnz.co.nz/blogs/ransomware-clop-computer
https://www.chnz.co.nz/blogs/backup-computer-data
https://www.chnz.co.nz/blogs/malware-fraud-computer
https://www.chnz.co.nz/blogs/hdd-ransomware-backup
https://www.chnz.co.nz/blogs/backup-check