How to Make Your Internet Safe
OpenDNS is a truly free way to protect your family or your staff from unsuitable content on their computers from the internet. It is free and has Parental Controls that allow you to fine tune what content you will let people using your WiFi to browse.
In this age of malware and phishing attacks, you need more security than just antivirus. We've worked hard to find solutions that counters malware attacks and provide better privacy on the Internet. This review of OpenDNS checks out the features of OpenDNS, a cloud-based free computer service that not only protects you from nasty content, but may even make your internet faster.
The OpenDNS parental control allows you to control what content can your kids see when they browse the Internet – using any device connected to your home network. And since it is a cloud and DNS based service, you don't need to setup each device as any device on your WiFi or local network will be covered. You can simply set up OpenDNS will apply it to all the devices on your internet connection.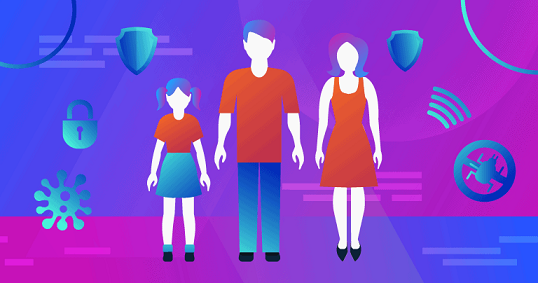 Setting Up OpenDNS
Before setting up OpenDNS, you need to setup an account with OpenDNS so that you can use the full range of options, including the controls program. The parental control allows you to stop different types of websites from being shown on your computer network.
The registration process is easy and quick. Just enter your email and a password and follow the instructions. The first step after creating the account is to set up your computer network to use the DNS address provided by OpenDNS. The best way is in the router but in some cases, you need to do it through your computer, depending upon how you connect to the internet – static IP or dynamic.
The OpenDNS website gives you three options when you register with the service: Computer; Router and DNS Server. When you select one, it walks you through the how-to of setting up the new DNS server addresses. If you already know how to change the DNS on your internet setup on your router etc, the settings are: 208.67.222.222 and 208.67.220.220.
OpenDNS – Internet Security
OpenDNS uses one of the best anti-phishing solutions for internet, known as Phishtank. The Phish "tank" contains information about phishing websites. It is a place when people can add and confirm reports of phishing websites and because of that, you can expect the info to be the most current and therefore, you can trust OpenDNS to protect you from phishing websites.
OpenDNS also stops botnets and malware-infected sites from contacting you. Since OpenDNS is responsible for the role resolving domain names (URLs) of website and therefore is checking every name, if it finds any request for a website it knows is dangerous or infected, it will block the browser and protect you from potential issues.
OpenDNS - Parental Controls
OpenDNS gives you many options to configure what content is allowed or simply monitored. You can customize down to individual categories e.g., pornography, nudity, gambling, alcohol, drugs, hate speech. Useful for your specific internet computing situation.
There is a drawback, if you are using a network that uses Dynamic IP such as most fibre internet connections. You'll need to download and install an IP updater software on your computer or laptop, otherwise the connection will quickly be out of date and not protected. For static IPs, such as cable or business internet connection, all you need to do is enter your IP address to the OpenDNS account (Dashboard).
Once you are finished setting up your network to your OpenDNS dashboard, you can set up website filtering. Select the categories you want to block, or use the general filter mode for easy computer setup. Remember that since it is the Domain Name System your network is implementing, all computers, laptops, PCs, MacBooks, iMacs or any other computing device on that network will have to abide by the filters you have set up.
You can even block individual sites. The option to do this is right below the dashboard that allows you to set up parental filtering. Keep your laptops, computers, and desktops safe.
You can even display a custom message to your staff or children when they encounter a blocked website. Just click on Customization on the left and go down a little to Block Page. On this option, you can create the page that appears when any user of your network goes to a blocked web page.
Overall, this parental control feature of OpenDNS is very customizable, and so you can get it working at just the right level for your local computer users in your house or business.
Here's an example of filtering...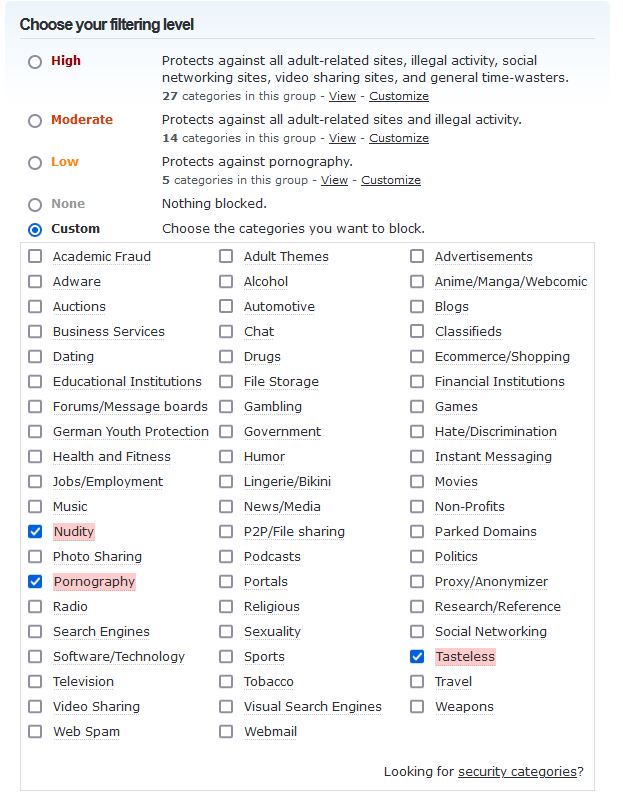 Review of Open DNS: Browsing Speed
This one is a little subjective. But after moving to OpenDNS, I noticed that I had a faster Internet. The time taken to resolve URLs was much better when compared to the local DNS service I was using.
According to OpenDNS, they not allow themselves to become a bottleneck when it comes to browsing. It prevents malware and some adware from being shown on websites, so the Internet usage actually decreases, therefore you get a little more speed.
I hope you found that helpful and you if you want assistance in setting up OpenDNS our techs would be glad to come around and help you.
You can check our OpenDNS here
.