Asus D515 Laptop – The Contender!
OVERVIEW
For years, Computer Help NZ has exclusively sold Acer's business range of quality laptops and nothing has crossed our path that would have us reconsider this position, until now! There is a contender for the title of "Best Laptop Ever" with exiting new offerings from ASUS, leveraging the power and advantages of AMD Ryzen Processors. Not only can ASUS bring us a machine that pound for pound punches harder than it's Intel Processor equivalents, the specifications of the rest of the machine put others to shame as well. All while bringing the same 3-Year Manufacturer's Warranty carried by all machines we sell.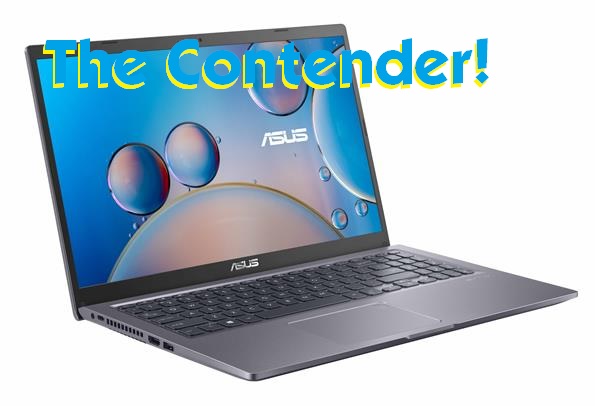 Operating System Windows 10 Home 64 Bit
Screen 15.6" 1080p (Full HD) 16:9 Anti-Glare Display
Processor AMD Ryzen 5 3500U Quad Core CPU w/ Radeon Vega 8 Graphics
Memory 8GB DDR4 RAM (Upgradable to a maximum of 16GB)
Storage 512GB NVMe SSD – Twice the size and speed of others at the same price!
Ports
2x USB 2.0, 1x USB 3.0,
1x USB 3.2 Type-C
1x 3.5mm Audio Combo Jack
1x HDMI, 1x microSD Card Reader
Networking 802.11ac Wi-Fi, Bluetooth 4.2
Battery 37,000 mWh Lithium Ion
Colour Slate Grey
Dimensions 360mm (w) x 235mm (d) x 19.9mm (h)
Weight 1.6 KG~ (3.5 lb~) – Easy to carry!
Warranty: 3 Year Manufacturer's Hardware Warranty. Note: Batteries are considered a consumable item and not hardware.

LAPTOP DEAL INCLUDES
File Transfer: We deal with the hassles of transferring your computer files, e-mail, browser profiles and more
from your old device in our workshop. The goal is to migrate you to your new machine with a
minimum of hassle so that you hopefully have nothing to do but sit down and start using it. *
Free Delivery and Setup *: We deliver the laptop to your home or place of work. We'll setup the laptop
with your printers and peripherals. Make settling-in adjustments and ensure you're ready to go.
Free Laptop Carry Bag and Logitech Wireless Mouse.

$2150 .00 Incl. GST

UPGRADE OPTIONS
Do you need Microsoft Office?

Office 2019 Home & Student $150 includes:
Office 2019 Home & Business $250 includes:
Office 2019 Professional $350 includes:

Upgrade to Windows 10 Professional $50
Add a 1TB External HDD and Backup Software $129
Upgrade to 16GB RAM $120
Upgrade to 1TB SSD $249
USB External DVD-RW Drive $69
USB Ethernet Adapter $49
Computer Help Life Membership $79
Add an additional internal drive (Ask us for options)

* Additional costs may apply for work outside the scope of the package deal or delivery
outside our normal service area. Software cannot be transferred and license keys or
account details may be needed to re-install the software on your new laptop.
* A Credit Card fee of 3% applies when paying by Credit Card.
May the Forth Be With You!
Matthew