Microsoft has had a lot of bad press in the past few years with their updates breaking things on some computers. For 95% of users the updates haven't been a problem but for the other 5% it's been a pain. This has even been true with Apple when it releases its major updates. For example, when Mojave first came out it caused a lot of Macs, Macbooks and iMacs to not boot at all.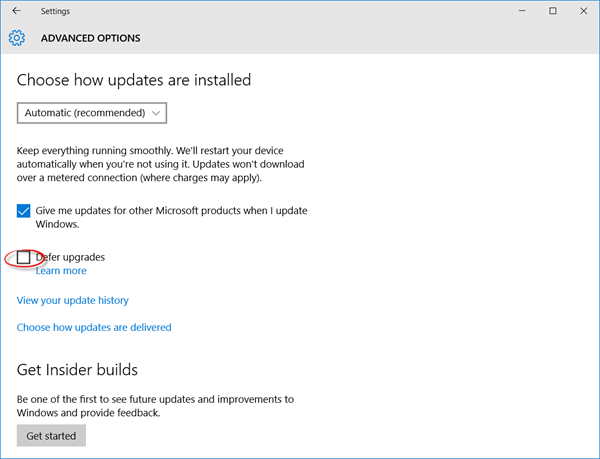 Microsoft is working on a new release which will give you more options regarding computer updates. This will include the rather useful option to defer updates. Currently you can only do this if you have a Pro version of Windows. You can check on the bottom of your laptop or the back of your desktop computer and often you'll find a sticker with the product key on it. It will also say whether it's Pro or Home. If you don't have a sticker, which isn't uncommon, then you can right click on 'Computer', left click 'Properties' and then look for the version there.
In the update that is coming out next month you'll be able to defer updates even with the standard Home version.
Why would you want to defer updates? Sometimes Microsoft is a bit hasty to release an update on schedule and it can cause computer users problems. When Microsoft realises their mistake they usually pull the update, correct it and re-release it a few days or weeks later. If you don't do this update for 30 days because you have them set to be deferred then you can avoid being caught in the initial problem.
You can also manually decline updates on an Apple machine which can avoid some of the same problems.
How can I make my computer automatically defer updates? If you have Windows 10 PRO you can do this now. Otherwise, ironically, you will need to wait for the update!
On Windows 10 Pro...
Select the Start button, then select Settings > Update & Security > Windows Update . Under Update settings, select Advanced options. From the boxes under Choose when updates are installed, select the number of days you would like to defer a feature update or a quality update. I suggest 30.
I imagine this email will provoke a lot of questions - so my apologies in advance for not answering them all (the email would just be too long). Feel free to email any questions you have.
Matthew, Steve, Paul, James and Sharron
Computer Help NZ