Defragging is a waste of time.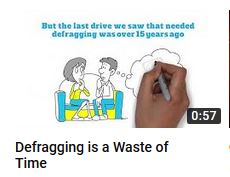 Many years ago when hard drives were very small a drive would get defragmented - but the last drive we saw that needed defragging was over 15 years ago.
It doesn't help. In fact, if you have a Solid State Drive, it can cause harm!
This (rather old) article explains computers and defragging well https://aplawrence.com/Basics/Why-defragging-your-computer-may-be-a-waste-of-time.html despite it's age. But what they conclude is that most people do not need to defrag but some may do - these days (7 years later) I would change it to almost no one needs to defrag.

Forget defragging - there's other things to speed up your computer. Ask Computer Help NZ, we can help you get your laptop or desktop going quick.
Check out our video on this